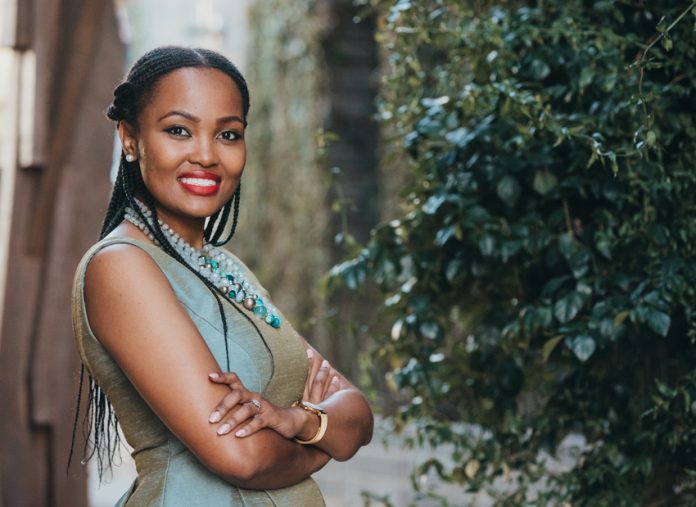 Business owner, entrepreneur, mentor, mother and wife, BUSI RAPHEKWANE offers inspiration and her lessons learnt on following your calling, empowering others and reaching your full potential.
Originally from a township called Temba in Hammanskraal, Busi was exposed to entrepreneurship at a young age when her father left regular employment to run his business full-time. Busi was inspired by what she saw and by how the family's standard of living was transformed as a result.
The independence and self-efficacy that comes with being an entrepreneur had always appealed, and from a very young age Busi dreamt of running a successful business. So, after finishing her accounting degree at the University of Pretoria and working in the fashion retail and communications industries, she took the leap and launched a clothing business.
"I made lots of frustrating mistakes and quickly realised that I needed to build my knowledge and so I enrolled in an entrepreneurship course. One of our assignments was to develop and implement a turnaround strategy for a business in distress. And it was while doing this work that I discovered my true passion: helping and empowering others to build successful businesses."
Busi was inspired to pursue business mentorship as a career. She started out by volunteering, and went on to work for enterprise and supplier development organisations in mentorship, training, and programme development and later at an executive level where she led teams of programme managers and mentors.
Through these roles she gained knowledge and experience, and the foundations were laid to start her own business, The Transformation Legacy, an enterprise development company providing impact-driven enterprise and supplier development programmes that are geared towards empowering small, medium and micro enterprises (SMMEs) to significantly grow their concerns.
Tell us more about what provided the driving force for starting up The Transformation Legacy.
When I moved back home to Hammanskraal, I saw that many of the small businesses that were around while I was growing up had closed or were struggling. This made me ask: Why do so many small businesses fail? Why don't they transition into medium-sized businesses and big businesses that have the potential to outlive their founders? Seeing so much hard work and sacrifice come to nothing was worrying, so I started looking for answers.
After speaking to many business owners, it became obvious that ventures fail because the founders don't have the knowledge to grow their businesses to the point where they are sustainable. It comes down to a lack of business acumen, knowledge, skills and information. In 2016, I launched The Transformation Legacy to provide development interventions that would help create long-term sustainability in small businesses.
Starting The Transformation Legacy took many sacrifices and a leap of faith. Leaving a full-time job that I loved, and a steady income, was daunting. I also knew that my family life would be disrupted; I had just given birth to my third child. However the calling was just too strong. I realised that I had been conceptualising this business idea for many years and I had to "just start". Mentally I was ready for the challenge. I knew this was important as the right mindset is fundamental to seeing you through difficult times. I had to trust in my own abilities, knowledge, experience and strategies, and follow my passion.
"I love sharing my knowledge and helping people realise that they can build sustainable businesses that can leave a legacy that makes them proud. I am passionate about transforming lives and seeing entrepreneurs use their strengths and skills to achieve their dreams."
What is your favourite aspect of being a business owner?
I enjoy the autonomy that comes with running a business. I get to set the direction I want to go in, and am constantly learning. I also get to work with different people from all walks of life. There is never a dull moment as a business owner; every day is different.
In my line of business, I also get to impact people's lives and see them transform for the better. I work with amazing, passionate people who want to see change in this world; that's inspiring.
What are some of the hardest aspects of running your own business?
There is a lot of uncertainty that comes with running a business. A strong mental outlook really helps you manage some of this uncertainty. Working long hours can be taxing, particularly when you have a family. You will have to make sacrifices now in the belief that the rewards will come in the future. As your business gets off the ground it will take time and effort to establish your credibility, as you will start out as an unknown entity.
Women seem to be taking the lead in creating businesses that will affect social change and create economic opportunities, why do you think this is?
There's a saying that I really like: "When you educate a woman, you educate the nation." I believe that women are nurturing by their very nature. So when we start businesses, we want to see others benefit alongside us. Women play key roles in society; we are child-bearers, the anchor of the family and caregivers. This flows through to the business world where we become the caregivers of society through our businesses and the work that we do. This can have a huge social impact. It is instinctive for me as a woman to want to use the power I possess to empower others.
What unique challenges do female business owners face? How do you personally overcome these?
Women business owners are often not taken seriously, particularly in male-dominated industries. Traditionally women have stayed home and have not participated in income-generating activities. This has created the perception that women are not cut out for the business world. While society is changing, and female business owners are receiving some recognition, there is still an unconscious bias in the workplace that says women don't have what it takes to build successful businesses and compete with their male counterparts. I overcome prejudice by focusing on the unique contribution I have to offer the business world. At the same time, I choose not to focus on the negative perceptions that others may have of me as a female entrepreneur. I've chosen to focus on my strengths as a woman and to use these to make a unique contribution in the business world.
What unique strengths and skills do you think women in leadership positions bring to the table?
Women in leadership positions are uniquely positioned to ensure that their work has a meaningful impact on society at large. They are driven to empower others; they are care-givers who ensure that no one is left behind as they grow. Women have the ability to see things from both a business and "human" perspective. Women are able to motivate others by showing that as human beings we have many more abilities than we think or can really understand.
"It is instinctive for me as a woman to want to use the power I possess to empower others."
All businesses go through challenging times. How do you stay motivated?
I constantly remind myself of the vision of The Transformation Legacy, and the impact it can have on small businesses, the economy and the overall alleviation of poverty. If I don't play my role as the leader of the company, then we will not experience an increased number of sustainable legacy businesses.
I also believe that in order to become a successful entrepreneur, you need to have an intimate understanding of who you are, as well as your inherent strengths and limitations. I value my personal growth, and put a lot of work into developing my character so that I am resilient and remain motivated. I achieve this through self-reflection using various methods such as walking and meditation, as well as reading a lot about self-awareness and personal mastery. I also have a life-coach and business mentor who helps me to stay focussed and understand how to constantly improve my effectiveness.
I've learnt to use the challenges that I experience in the business to build my personal capacity. Each challenge makes me stronger and teaches me how to make better and more rewarding decisions in the future. I believe entrepreneurship is mental more than anything, so I invest a lot of time in developing the right mindset. This constant focus on personal development has helped me to understand my limitations, and helps me to deal with aspects of myself that may lead to a loss of morale.
How does being a business owner affect your family life, and how do you maintain a work-life balance.
There are pros and cons to operating a business and running a household. Through my journey as an entrepreneur, mother and wife, I have come to realise that you may not always have the desired work-life balance. The goal should not be to achieve balance as such, but rather to be truly immersed and present in whatever role you are playing at a particular time. So, if I am at home with my husband and kids, I do my best to be fully present and to have quality time with them. This has helped me to work with the time I have, and make the best of it. What's important for me is to have quality family time, rather than trying to increase the quantity of time I spend with them. It is also valuable to have my family's support as this helps me to be effective in playing both roles.
What have you learned about leadership, entrepreneurship and mentoring others?
Leadership starts from within. You can't assume leadership of others if you can't lead yourself. It's the ability to know where you're going and what you want to achieve, taking full responsibility and accountability for your own life, actions, behaviours and beliefs. Only then can you influence others to lead themselves.
Being an entrepreneur gives you the platform to explore yourself as an individual and tap into strengths and talents you didn't know you had. It's an exciting career that provides growth opportunities that go beyond building a successful business.
Mentoring others is a critical aspect of transferring knowledge and skills. It is about guiding someone through their own journey of development, achieving their own goals and desires. Many businesses can thrive if the entrepreneur receives the right mentorship. Mentorship has played a big role in the growth of my business, and I believe that every entrepreneur should have a mentor.
How do you define success?
Success for me comes from the knowledge that I have "truly lived". By this I mean that I have lived out my potential in all important areas of my life. Knowing that I've done everything that I am capable of doing. It is about the ability to follow my calling, being fearless when I pursue my dreams and making a difference in people's lives.
And, impact the world.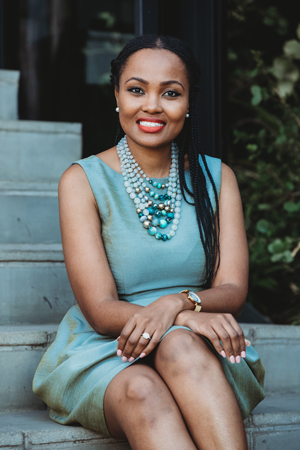 Busi's top advice to female entrepreneurs who want to start a business:
• Know that your uniqueness can make a big difference to the business environment.
• Understand "why" you want to start a business and the impact you want the business to have.
• Do not change who you are to fit in with what society may deem as being an astute entrepreneur, bring your true self to the table.
• Have confidence in your ability to make your business and family life work.
• Don't wait until the kids are older, there's never a "right" time to start a business.
• Build your mental capacity, because it will be challenging, and you need to be able to navigate those difficult times.
• Look at every single challenge as an opportunity to learn and grow.
• Do not dwell on what hasn't worked, learn the lesson and move on.
• In order to master your business, you have to master yourself: invest in self-awareness and your personal development.